Back to top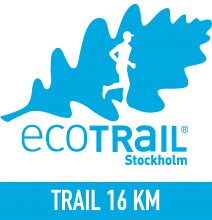 Trail 16 Km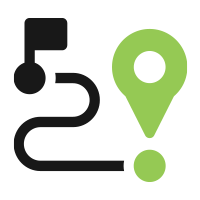 DISTANCE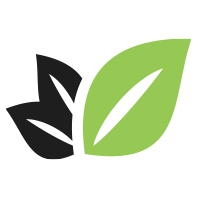 NATURE %
Welcome to EcoTrail Stockholm 16 km!
A new trailrunning experience in the Capital of Scandinavia
The race starts at the amphiteater by Stora Skuggan at north Djurgården, part of the national states park founded in 1995. You start off by making your way on the trails in the oak forests and circle around Laduviken before you reach Fiskartorpet and the climb up the old ski-slope. Here frequent ski-jumping competitions were held during1920s and 30s. Close to 30000 in the audience was not uncommon. After a passage through the woods it opens up again before you pass Stockholms horse stadium where the competitions of the 1912 Stockholm Olympics were held. Onwards you pass the the  passerar man development along Tessinparken on the upper parts of the på övre delarna av district of Östermalm before you enter the big open area of Ladugårdsgärdet, known to everyone as Gärdet. You are almost at the halfway mark and soon you will be able to drink and fill up on some energy as you reach the landmark Kaknästornet. 
From there you soon enter a beautiful deciduous forest with narrow up-kept trails. When you have passed Hundudden you cross the bridge that runs over Djurgårdsbrunnskanalen. The trail follows the shore of Isbladskärret before it submerges into the lush deciduous forest which now mainly consists of majestic oak trees. At the well known and well-kept garden of Rosendal the trail merges  into a park and walkway. You run passed the parameter of Skansen and Villa Gothem before you pass the tram and run towards Galärparken, next to the Vasamuseeum, where the royal ship from the 17th century is preserved for future generations. At the finish you are treated to an extraordinary view of the city center of Stockholm, framed by the beautiful Strömmen.

EcoTrail Stockholm 16 km in numbers
Distance: 16 k

Stations: 2 

ITRA points: 0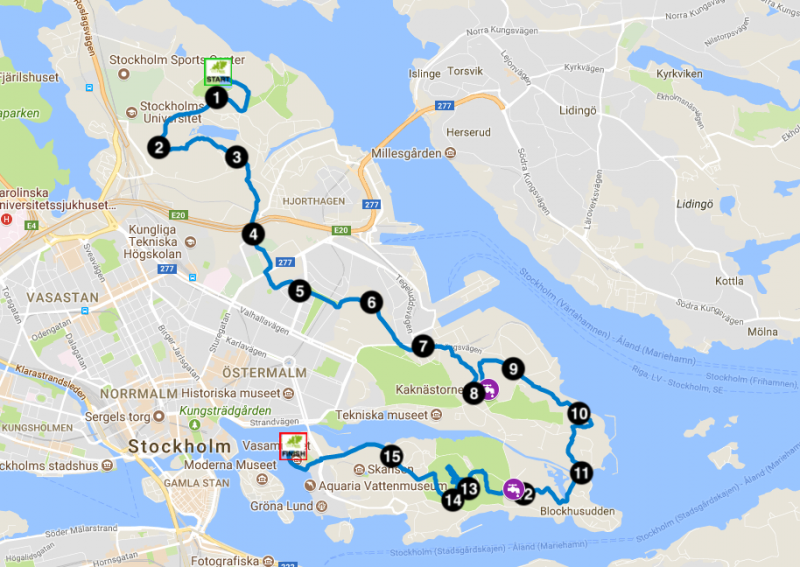 Pricing
 

 
from


1 dec




from 
1 april

80k

 

1095

1195

45k

 

895

995

16k

 

595

695

8 k

 

495

495
Whats included in the starting fee?
- A unique medal for everyone
- Participation in EcoTrail Stockholm 16th of June
- Aid stations with a lot of food 
- An international running race with an inspiring course and afterparty 
- A meal after finishing the race
- Testruns before the race 
- Offers and give-aways from our partners
- Finisher product for everyone
Our medal for 2018

Payment

Payment by card. Registration is binding. 

Reciept 

Your confirmation is your receipt and what you show to pick up your bib. Race iformation to all participants will be sent out before the race. You can change the name of your registration until 31st of May for 200 SEK. 
All participation is on your own risk. 
Programme
Friday 15th of June
12.00-19.00 BIB-pickup at Alewalds, Kungsgatan 32. We recommend you to pick up the bib on Friday.
Saturday 16th of June
Starting area Stora Skuggan, Norra Djurgården
It´s possible to send a small bag from the start area to the finsih. We don´t have any possibility to store it under a roof. Pack for wet conditions.
06.15 We open the starting area
06.45 BIB-pickup at stora skuggan start.
07.00 Start for EcoTrail Stockholm 80 k
09.00-09.45 BIB-pickup at stora skuggan start.
10.00 Start for EcoTrail Stockholm 45 k
11.00-11.45 BIB-pickup at start skuggan start.
12.00 Start for EcoTrail Stockholm 16 k
Starting area Kaknästornet, Norra Djurgården
10.00- 10.40 BIB-pickup at Kaknästornet start.

11.00 Start  EcoTrail for Stockholm 8 k 
Finishing area - the goal - Galärparken, Södra Djurgården
Ca 11.35 First runner 8 k, Galärparken.
Ca 13.00 First runner 16 k, Galärparken.
Ca 13.00-13.30 First runner 45 k
Ca 13-13.30 First runner 80 k
Från 13.00 After Run  with pricing ceremony, food, beverage and just some fun! 
21.00 Finishing area is closing
Environmental focus
 
EcoTrail Stockholm has the nature and culture in focus. No one time articles will be used during the race and at the aid stations there will be no mugs, all the runners must bring their own cup or mug during the whole race. All runners will also get a free waste bag that you can attach to your running pack. The garbage is sorted and we advise all the runners to get to the start by subway, bus or bicycle.
Find our the locations:
Starting and finishing area is close to pubic communications, so please leave your car at home.
Stora Skuggan (Starting area for 16k, 45k, 80k)
Take the subway to "Universitetet" (red line). From here you walk 10 min to the starting area, We recommend the subway. There are also parking spots close to the area. For GPS put "Stora Skuggan" or "Stora Skuggans väg".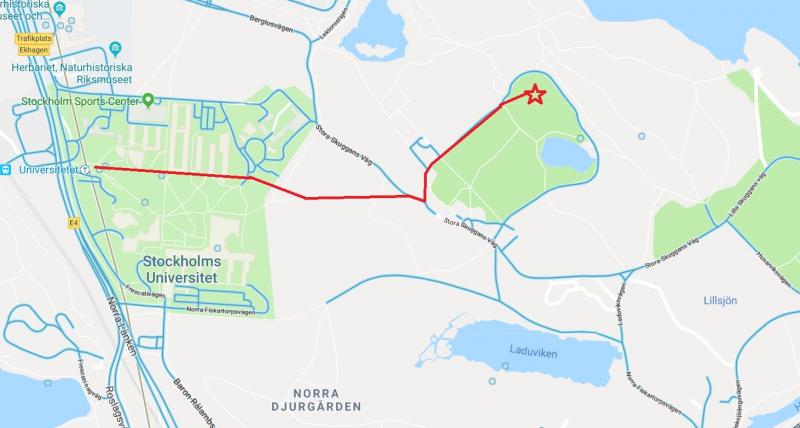 Kaknästornet (Starting area for 8k)
Take bus 69 from the city to station "Kaknäs". From there you walk 5 min.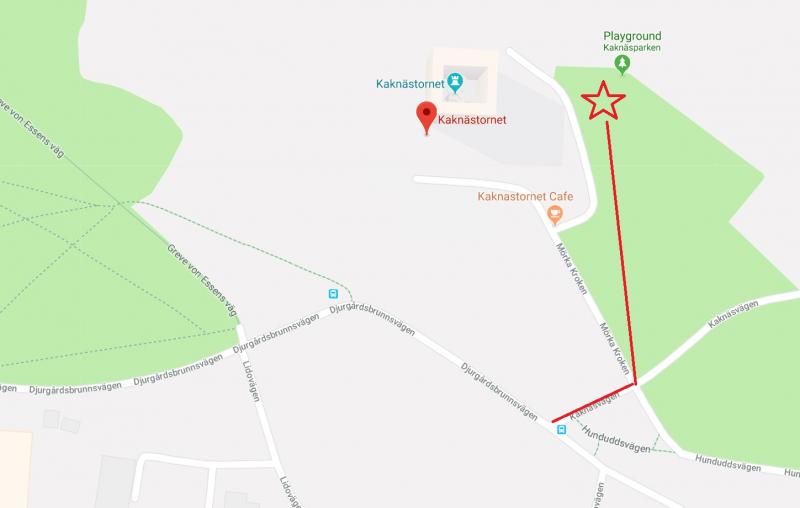 Galärparken (Finishing area for eveyrone) 
Galärparken är a city based park. You can easily walk to a subway from the goal or take a bus. The closest transportation is the tram which is right outside of the park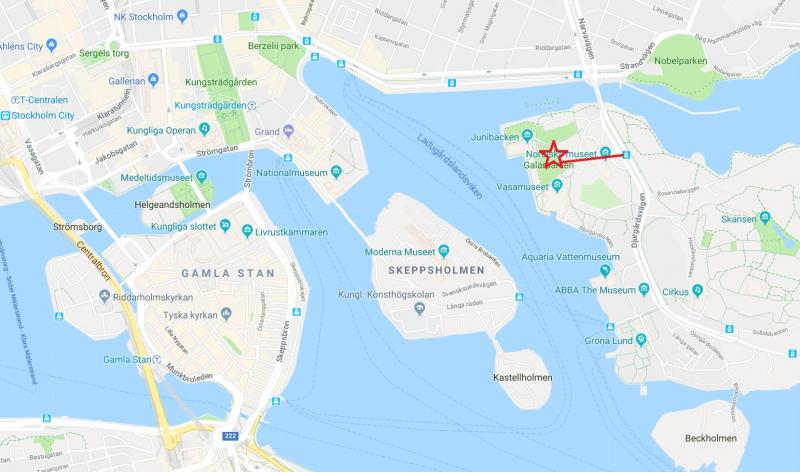 Cut-off-times
We have friendly cut-off-times. Reach the goal before 21.00!  

Mandatory Equipment
Your own cup (150ml)
Trash bag (you get it at the BIB pickup)

Please notice we dont have any cups at the stations!
We recommend you to also bring water, energy supply and clothes based on the weather.
Blog Live the Ecotrail experience!